How Old Are Most Antique Rugs?
Do you ever go antique shopping? Most shops have a broad definition of the term "antique," and you'll find items from 20 to 200 years ago. But when you're shopping for area rugs, the term "antique" is more defined.
Antique area rugs are usually at least 50 years old, and often older. In fact, a 50-year-old rug is considered rather young. However, the style and type of rug you're looking for will help you determine the appropriate level of antiquity for your collection or home.
Certain styles of rug were only made during a set period. European Art Deco designs were incorporated into rugs from 1925-1950 -- still considered antique, but just barely. If you are looking for area rugs that incorporate a wide range of colors, you may have to look for more modern pieces since artificial dyes (not vegetable-based) were only available after the 1920s.
The most collectible antique rugs are at least a century old and are often hung on the wall instead of walked on. While we encourage our customers to "walk on art," sometimes a piece really does deserve to be displayed on the wall. It allows you to appreciate the piece like the art that it is, and it reduces wear and tear.
When you're evaluating an antique rug's value, its condition, quality, uniqueness, age, and beauty are all factors. Of course, how you want to use it and your own personal tastes will help you find the rug perfect for your home or collection.
How Do You Tell An Antique Rug's Age?
There are several small clues that are used to determine a rug's age. Often, it is an estimate given in a range, though some rugs have dates woven into them. When present, the numbers translate to a date on the Moslem calendar, so you'll have to convert it to the Gregorian calendar to get an estimate.
Shady rug outlets will sometimes alter one of the numbers to artificially inflate the age and value. Take a close look at the numbers if they are present to be sure they were originally woven into the rug. If a number has been altered, it's usually the second one because that adds nearly 100 years to the date.
Experts are able to identify styles, motifs, methods of construction, size, and pile to approximate the age. If you are interested in rugs from a particular era, you will be able to identify some of the common traits by reviewing different examples. Unfortunately, some rug outlets alter their rugs, as we mentioned. If you are ever uncertain about a rug's authenticity, get a second opinion before you buy it. No one wants to discover their beautiful painting is a forgery, and you wouldn't want to tricked into making a poor rug investment either.
If you need a second opinion on someone else's area rugs or if you want to know the value and age of one you already own, we offer rug appraisals at Alyshaan Fine Rugs in Scottsdale.
---
5 Styles of Carpets & Rugs
Does your home decor follow specific styles, or do you like to mix and match disparate styles for a unique look? Much like there are styles of furniture and paintings, carpets & rugs have their own style categories. Some of the details will vary depending on the region a rug is from, but there are 5 distinct styles available: traditional, contemporary, transitional, antique and tribal. We've included a little about each style so you know what to expect when you ask to see a particular kind of rug!
Traditional Rugs
Many Persian rugs fall into this category. The traditional style usually features a high level of detail work in the design with a border all the way around. The border design often features different colors than the central design and is more detailed, though this isn't always the case. While reds and browns are popular colors for traditional Persian rugs, one stop in our store near Phoenix will show you the whole spectrum of colors available.
Contemporary Area Rugs
Focusing on more simplistic designs and fewer colors, the contemporary style is a perfect match for modern decor and many oriental rugs are made in this style. Instead of being restricted to a traditional template, contemporary rugs feature bright colors in all sorts of designs: abstract, floral, blocks, stripes and other patterns.
Transitional Rugs
This is the happy medium between traditional and contemporary area rugs. A transitional rug will follow some of the conventions of traditional rugs but bend the rules, using different design elements or colors like a contemporary rug. Transitional designs can also take a familiar detail of traditional rugs and put it center stage by making it huge. The range of designs in the transitional category is huge, because some designs focus more on traditional elements, while others focus on more modern ones.
Antique Area Rugs
These are usually large area rugs that are made in a very traditional style. The designs are often highly detailed and the material is high quality. While not a design style all its own, an antique rug has a beautiful history and has stood the test of time to rest on your floor or hang on your wall. New large area rugs done in the traditional style borrow heavily from these but aren't quite the same.
Tribal Carpets & Rugs
The tribal style is a kind of Persian rug that uses a more primitive design, focusing less on high detail and more on creating a rougher feel. Primitive symbols and elements are incorporated into these designs. Most incorporate reds, creams and purples, although there are exceptions. Due to the simpler style, tribal Persian rugs (also sometimes called "gabbeh") are often the most affordable area rugs.
What style would fit into your home best? If you aren't sure, you can view some rug samples in our online gallery or you can visit our Scottsdale store to see the full in-stock selection.
---
Traditional Large Area Rugs Can Still Be Colorful
"Traditional" doesn't necessarily mean "same old, same old" or "boring" -- some of the most exquisite area rugs we have in stock are crafted in the traditional style and they certainly aren't dull! You might think there are only a handful of colors available in traditional designs, but you would be pleasantly surprised to see the variety of shades incorporated into these rugs.
Let us take you on a tip-of-the-iceberg tour of colors you can see in both small and large area rugs in the traditional style. There are many more designs and colors available to peruse, so check out our world of rugs in the online gallery or come visit our rug store in the Phoenix area for the full selection.

From Sameer Collection, this traditional large area rug from Pakistan features bright reds, creams and black. While these are colors you might expect to see in a traditional rug, the combination and placement of them make the design really pop. The elegant style can add that perfect touch to a living space, especially if the decor seems disconnected now.
The next traditional rug comes to us from Pakistan as well, but incorporates a different palette of colors:

Instead of focusing on the most traditional color (red), this large area rug heavily features a light blue. If you are looking for a lighter addition to your home but still want the luxury feel of a traditional design, a rug featuring lighter shades like this one is ideal. Great for a breakfast nook, bedroom or living room, especially if there is plenty of natural light available!
Bright shades are also available in a traditional design, as the next one showcases:

The orange in this rug really stands out! With dark and light blue accents, the design remains traditional while still being fun and fancy. If you need a large splash of color in a room, area rugs in bright shades like this may be exactly what you're looking for. We love how detailed the border and interior are -- the complex pattern doesn't take away from the brilliant colors.
Of course, big colors can come in small sizes, too.
This Iranian rug is 2x3 and packs quite a lot of color into its small space! Purples, reds, creams and yellows are all components in this piece. The complex design and wide range of colors allow the details to really shine through and stand out. Small rugs like this can be useful in entryways, at the edge of your bed or in your kitchen.
Traditional rugs offer so much more than the limited color range that they are best known for, so come in to see what style suits your needs best. We carry traditional large area rugs, plus transitional, contemporary, tribal and antique.
---
Should You Put Furniture on Top of Fine Rugs?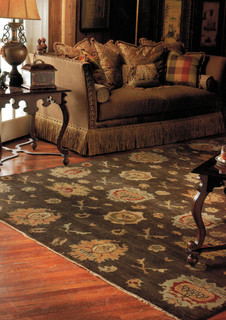 This is an important question if you're planning the design of your living room or bedroom: Can you place furniture on top of fine or luxury area rugs? The answer is yes! But let's look at a few facts about the placement of large area rugs in particular before you rearrange the furniture.
You have three options when it comes to arranging your furniture around an area rug.
Place furniture completely on the large area rug. Putting the full weight of furniture on luxury rugs means the weight is evenly distributed. However, you should periodically move the furniture a few inches so that it doesn't wear down the same spots. This can prevent damage to the material.
Place furniture partially on the rug, with one to two feet on the rug and the rest right on the floor. One concern with placing furniture only partially on the rug is that it can lead to uneven wear on the rug itself. If you move the furniture slightly every few months or so, this can be avoided. Another aspect of this arrangement is that the furniture may be wobbly if only partially on an area rug. This especially applies to chairs if the pile height is much higher than the flooring.
Arrange your rug so that no furniture is directly on top of the rug. You won't have to worry about unnecessary wear on your rug, but this may not be practical with large or oversized area rugs. For living rooms, some rug owners choose to have a lightweight coffee table on the rug and the heavier furniture off it.
The size of your room and other furniture will determine which is the best solution for your interior design. Silk rugs are more likely to be damaged over time by heavy furniture on top than wool or cotton area rugs, so be aware of the materials you are considering and how you intend to use it.
In bedrooms, large area rugs are often placed partially under the bed and partially sticking out, so that two posts are on the rug and two are off. However, oversized rugs are also available if you want all four posts on top.
If you are concerned about wear, you can always opt for a smaller accent rug that doesn't need to be placed under furniture. At the foot of your bed, down the hallway or in your entryway are all options for smaller options including certain runners and round area rugs.
Ask the experts at our rug outlet in Scottsdale if you need help choosing a rug size or style. Bring some pictures of the room you want a rug for and we can also help you determine the best placement of a large area rug in your home. We provide area rugs to the Phoenix AZ area as well as internationally, so feel free to contact us with your questions.
---
Special Order For Faster, Simpler Custom Rugs
For those looking for specific rug colors but don't want to bother with a complex custom design, special order rugs provide a convenient way for you to get the colors you want. We offer special order rugs in contemporary and transitional designs that you can't find in our rug store, and you can customize the colors to your liking.
This is how special order rug orders work:
Browse through the special order rug templates we offer. You can see our special order selection online, or you can come into our rug store in Scottsdale and view 2x3-foot samples of each design. Many of the templates can be put onto small or large area rugs, round rugs or runners.
Once you've selected which template design you like, pick out the colors you want. Use our custom 600 color palette to find the perfect combination of hues. Most of the custom rug templates have four colors or less. If you like the default colors, that's great, too! We will place the order immediately, and it will likely be in stock so you'll receive your rug quickly.
If you chose custom colors for the template design, we will place your order and then notify you when it is completed. Since the design is based on a template, the weavers are able to hand make these rugs faster than traditional custom rugs or even completely custom contemporary designs.
Creating a custom rug based on a template makes it easy for you -- you don't have to choose a dozen colors just to create the look you need or settle for an existing rug in the wrong colors. It's also helpful for many to see the sample rugs in person before they order a custom rug, which makes it simpler for busy people who don't have time to tweak a custom design.
Although many of the special order rugs only have a few colors weaved in, that doesn't mean they are boring! They are well-crafted with high quality materials, and many incorporate beautiful carving and silk accents. Here are a few template samples we have in store for you to peruse:

Of course, if you're considering a more complex custom design, we can also help you design that rug as well. The turnaround time for completely custom rugs will be longer than one of the template special order rugs, but you can get exactly the design and coloring you want. Special order rugs based on a template are excellent for people looking for custom rugs in specific colors and for those who need fast production time.
If you're not sure what would be the best option for your home, view the special order templates in person or online. Contemporary and transitional rugs with custom colors can be at your door sooner than you think!
What design possibilities do custom colors open up for your interior decorating? If you have any questions about our special order rugs, please stop by Alyshaan Fine Rugs in Scottsdale or call 480-607-4955.
---
Subcategories
The Largest Selection of Fine Area Rugs in Arizona.
Start browsing over 3200 fine rugs from your computer, phone or tablet today.
Scroll